Student Services
STUDENT SERVICES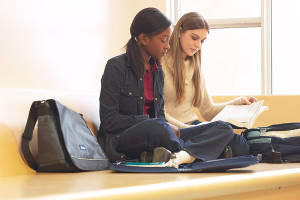 LRHS is fortunate to have a team of professionals offering a variety of services. The team includes a public health nurse, a social worker, a psychologist, a guidance counselor and a special eduation technician. Any student and/or his or her family can access services by requesting an appointment directly with team members, or by inquiring at the main office.
Team members have different office hours and are not all present at all times. Their hours are posted outside the Student Services Team offices.
Guidance Department
The Guidance Department at LRHS offers students an array of services including educational counselling, vocational/career counseling and personal counselling. Students needing information on course selection, schedule changes, careers, vocational schools, CEGEPs and universities are encouraged to drop by Student Services and/or make an appointment with the Student Services secretary outside of class time.
Important Phone Numbers For Help Services Outside of LRHS
Help Lines
Suicide Prevention Le Faubourg 1 866-277-3553
Kid's Help Line 1-800-668-6868
Youth Protection 1-800-361-8665
Narcotics Anonymous 1-800-879-0333
Drugs Help & Referral 1-800-668-6868
STD & AIDS Information 1-800-463-5656
Gay Line 1-800-505-5656
Gambling Help & Referral 1-800-461-0140
S.O.S. Domestic Violence 1-800-363-9010
Poison Control Centre 1-800-463-5060

Distress Centres
ALPPAMM (Mental Health) 1-800-663-0659
CAVAC (Victims of Criminal Acts) 1-800-492-2822
Stop (Violent Men) 1-800-267-3919
Centre Marie-Eve (Pregnancy) 1-800-663-0659
Parents Line 1-800-361-5085
Hospitals
Argenteuil-Lachute 450-562-3761
Hôtel Dieu - St.Jerome 450-431-8200
Laurentian- Ste. Agathe 819-324-4000
CSSS's
CSSS D'Argenteuil 450-562-8581 / 819-242-0778
CSSS Pays d'en Haut 450-229-6601 / 450-227-1571 / 450-227-3447
CSSS Thérèse-de-Blainville 430-450-4553
CSSS des Trois- Vallées 819-425-3771
Centre Andre Bourdeau( Drug Rehabilitation)
Lower Laurentians : 450-432-1395 / 1-888-345-1395

Upper Laurentians: 450-562-9078
Clinique Jeuness Lachute 450-562-0271 / 450-562-8581
Useful Websites

careercruising.com

(career & education info)

inforoutefpt.org/home/htm

(post secondary programme info)

clickvoc.qc.ca

(vocational programmes on theIsland of Montreal)

afe.gouv.qc.ca

(loans and bursaries)

ontariocolleges.ca

(Ontario colleges programme information)

jobfutures.ca

(career & education planning tool)

monemploi.com

(French only – career & post-secondary programme info)

headingforsuccess.com

(trades and occupations requiring vocational or technical training)

learnquebec.ca

(free tutorials and material - username and password required, which can be obtained from Student Services)